Welcome to the website of The Soundry Live Music Emporium.
The Soundry live music events team are very pleased to announce that we are going to be organising some new live music events at the Hockley Community Centre. Our aim is to present our events in much the same tradition as they were previously by our great friends at
Touchline Live Music.
Touchline Live Music have been providing Essex with a fabulous live music venue since 2008 when they first started at Hullbridge Sports and Social Club. They have always provided some class acts on a regular basis as well as a great venue with a warm and friendly atmosphere. This they have continued to do since their move from Hullbridge to the Hockley Community Centre in 2012.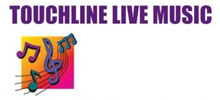 In 2019 the Touchline Live Music team made a big announcement that they had made the very hard decision to go into retirement and would be closing their doors for the last time on the 28th March, 2020. This was a decision that they didn't take lightly but felt it was the right time for them to do so. We are sure that you will all agree that the Touchline team deserve a well earned rest after the many years of dedication and hard work they have put in to support live music in Essex.
The Soundry would like to thank the Touchline Live Music team very much for all their hard work in setting up and providing the Hockley/Hullbridge area with such a fantastic live music venue for the past 12 years. Over this time we have seen and heard some really great music acts presented in a superb friendly live music club atmosphere which is second to none. We would like wish all of the Touchline Live Music team all the very best for the future.
Touchline Live Music will be a very hard act to follow, but we at The Soundry hope to be able to carry on live music at The Hockley Community Centre and try to fill the empty space that the Touchline will be leaving in our community.
Our current plans mean that we will not be putting on events as regularly as Touchline Live Music used to. Instead we will be aiming to put on a top quaility live music act every two or three months.
We hope to be able to bring back some of the more popular acts that you will have previously seen at The Touchline and we will also be looking for some new ones to come and perform which we know you will enjoy.
Thank you for your support and we look forward to seeing you at our events.
Best regards,
The Soundry Team